PLANET PROG show time
Planet Prog with Mark Krueger is broadcast live from the Studios of WMSE at The Milwaukee School of Engineering, Krueger Hall, every Sunday evening from 9:00pm until 10:30pm. Audio Archives are available anytime. Check the playlists to view Mark's selections for each week.

PLANET PROG history
Since 1977 the airwaves of Milwaukee, Wisconsin have been treated to Prog music on the radio by Mark Krueger. When the show started, it was simply known as as the Import Show because most Progressive Rock was found in the import section of many record stores. The show began during the tail end of the first wave of Progressive Rock in early 1977. (more...)
Import-music expert has one-of-kind show
By Michael Pflughoeft Special to The Sentinel - Friday, April 26, 1985
Lining every available inch of wall space inside Mark Krueger's West Side bungalow are record crates stacked five feet high. Krueger is obviously obsessed with collecting records, but this is not a typical album collection by any means. (more...)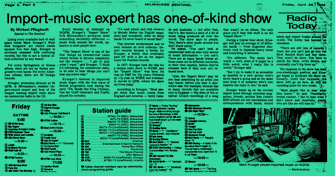 Note to progressive bands and independent labels:
You are invited to send your promotional discs and information for airplay consideration to:

Mark Krueger
PO Box 04512
Milwaukee WI 53204 USA

Email Mark: markakrueger@hotmail.com
Email the Webnovice: astralentrance@yahoo.com

This site refreshed June 10, 2018.